Alajuela Historical information
(Spanish version only)
Costa Rica has 7 provinces: San José (which is the capital), Alajuela (the city where Juan Santamaría International Airport is located), Heredia, Cartago, Puntarenas, Limón and Guanacaste.
ICLC campus is located in ALAJUELA, 9 kilometers North-West from Juan Santamaría International Airport (SJO). Please notice that all flight tickets use SJO / San José as an International code, but the Airport is located in ALAJUELA.
ICLC campus is located between Carrillos and Tacares:
click here to see a map of the region.
Carrillos is structured of mountains creating Upper Carrillos (Carrillos Alto) and Lower Carrillos (Carrillos Bajo).
Carrillos and Tacares towns are located only 30 kilometers south from Poás Volcano, making the volcanic soil an ideal place for the sugar cane and coffee plantations.
When living in Alajuela, foreigners have easy access to places like Sarchí, the bird's zoo, butterfly farm, Los Chorros Waterfalls and also to the Capital city, San José, when the desire is to go to a museum, the theatre, larger shopping centers, or just to experience another part of Costa Rica.
Comfortable walking shoes are of importance because of the daily amount of walking.
Costa Rican families living on these two towns: Carrillos and Tacares, offer a traditional "Tico" (Costa Rican) environment, which we consider very valuable for the participants. Both are little towns with friendly people that were born and raised there. Children accustom living close to parents when they get married, in the same town and many times in the same property, that is why many families close by are related.
Taxi service is inexpensive when moving from ICLC campus to Carrillos or Tacares, due to the short distance to get there.
The public bus transportation offers easy access from Carrillos and Tacares to Alajuela downtown or to Grecia, another city Center, which is ideal because participants tend to visit Alajuela or Grecia regularly to go to the bank or to do activities such as shopping or other entertainments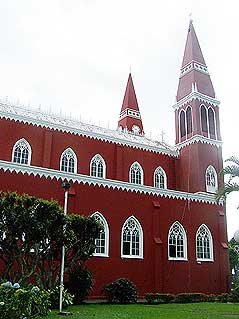 (Grecia's Church)